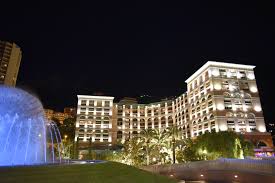 Looking forward for a casino vacation? If you enjoy going to casinos while travelling, here are some places to include in your travel destinations.
Monte Carlo, Monaco
This list wouldn't be complete without of course the original and historic Casino de Monte-Carlo. No! We're not talking the Monte Carlo Casino in Vegas. The astonishingly elaborate casino in Monaco remains the grandest in the gaming.
The casino's intriguing reputation, "Sunny place for shady people", was enhanced by filmdom, particularly 007's films and his Aston Martin rolling up toward the red-carpeted steps outside the casino.
This place is the ideal destination for players and tourists as well willing to splurge and seeking plure luxury, as evidenced by fine-tuned Lamborghinis, Ferraris, Rolls Royce and Bentleys that the rich and famous roll in.
Other than the glitz and glamour and gaming, one of the perks of taking a casino vacation in Monaco is digesting the stunning and beautiful scenery of the Mediterranean, not to mention the scenic coastline and diverse culture Monaco has to offer.
Biloxi, Mississippi
Surprised? Don't be! Biloxi is a great gaming location along the U.S. southern coast. You'll find 8 casino resorts here offering fine dining, entertainment, golf courses and also buffets.
Try your luck at some of the big names that you should remember, Boomtown Casino, Beau Rivage Resort & Casino, the Hard Rock Hotel and Casino and the IP Casino Resort.
You can also head over to Tunica, a town offering no gaming limits. In fact, Tunica draws in the big names for entertainment shows.
Salzburg, Austria
When you think of Austria, the last thing to cross your mind would be casinos. But yes! Salzburg is a wonderful place for casino enthusiasts. The city by the Alps is the ideal place for people who love to take risks and playing games and who also enjoy history, architecture and picturesque views.
Adding to the entire experience while in Salzburg are the baroque-era buildings, which add a touch of European elegance. Casino Salzburg is open 24 hours, seven days a week with the exception of December 24. It is also widely known for its culinary delights, which you can find at the renovated Klessheim Castle.
Casino Salzburg opened its doors in 1934, but it had to close down during the Second World War. Fortunately, it opened again in 1950.
If you have had enough of this casino, you can always check out Baden Bei Wien, which is another Austrian casino destination.