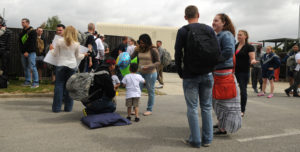 Travelling with your children especially if it is your first time to do it can really be exciting. Most parents naturally want to share the experience with their children even if they know they won't remember them.
To help you with your plans, here are some essential travel tips that you can follow:
Don't rush. Gone are the days when you can rush getting off the plane with just you minding your own business. As you have your own children to take care off, better just sit back and relax. Let everyone rush around you, and just enjoy a bit slower pace vacation.
Don't over pack. Keep in mind that you can buy almost everything abroad. If you think that your child may not need an item on her luggage, why bring it? While it may not be the same brand, but most of the time, you and your children can manage for the time being.
Where to stay? Hotel and vacation rental both have an advantage. Hotels have room service and even babysitting services while vacation rentals will allow you to make the place your home in the meantime. This means that you can cook your own food and save at the same time. If your child is picky with foods, a vacation rental may be a good choice.
Brand the kids. We are mostly worried that our children might get lost especially when we are in a different place. To lessen the worry, you can brand your children by writing their name and phone number on their arm or shirt. You can also purchase a GPS tracking device that you can follow along via the app to make them more secured.